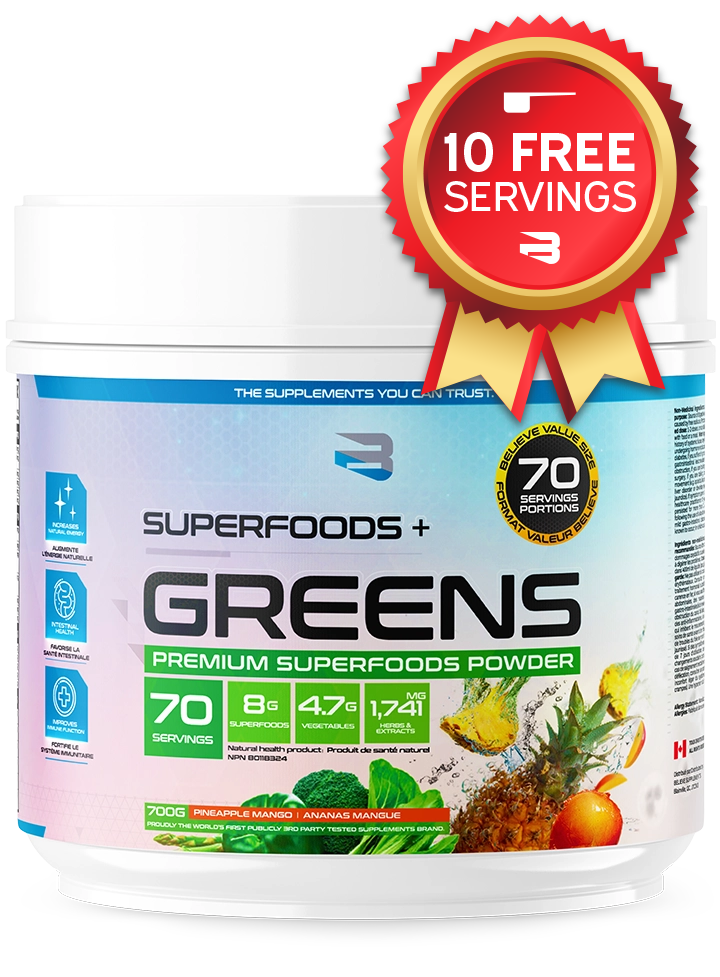 Superfoods + Greens (70s)
---
Your Daily Superfood Boost in a Tasty Sip!
YOU GET 10 FREE EXTRA SERVINGS WITH THIS VALUE SIZE!
Savour your daily dose of wellness with our Greens & Superfoods supplement! Experience the most delicious way to boost your superfood intake, strengthen your immune system, and enrich your health with vital micronutrients. Make each sip count towards a healthier you!
✅ YES IF

▪️ You need to eat more vegetables
▪️ You want to start your day feeling well-nourished
▪️ You want to increase your overall health and well-being
▪️ You want to maintain a strong immune system

❌ NO IF

▪️ You already eat 10 or more servings of fruits and vegetables daily.
📌 On a daily basis

▪️ One serving, mixed in with your favorite drink or water, once to three times a day
ℹ️ 70x Servings

ℹ️ Allergens
▪️ Vegan friendly
▪️ Gluten-Free
▪️ Peanut-Free
▪️ Lactose-Free
▪️ Soy-Free
▪️ Sugar-Free

ℹ️ Non-Medicinals ingredients:
▪️ Mixed Berry: Natural flavor, stevia
▪️ Chocolate Flavor: Natural & Artificial flavors, cocoa, sucralose
▪️ All Other Flavors: Natural & Artificial flavors, sucralose